Snakeman ® Snake Catcher ®
Snake Man ® Raymond Hoser ®
THE SNAKE MAN ®
Snake Catcher ® Snakeman reptile shows, snake removals and capture, phone (Melbourne) 9812-3322.
Raymond Hoser is The Snake Man. Besides being the owner of the business Reptile Shows, he is the world's foremost reptile and frog expert by all measurable criteria. Raymond Hoser is Australia's best known authority on reptiles, having appeared on TV documentaries globally, authored nine major books, contributed to hundreds of others and published hundreds of peer reviewed scientific papers and monographs. Raymond Hoser has discovered and named far more species, genera, tribes and families of snake than any other person in history, totalling over 300 species and genera and from all parts of the world. He has also discovered and named hundreds of species of lizard (more than any other person alive), as well as over 40 species of turtle, 4 species of crocodile, over 120 species of frogs (over 90 from Australia), some fish and over 20 species of mammals, giving a grand total of over 2,200 taxa discovered and named by the Snakeman.
In case it has been missed, no one in history has discovered and named as many species and subspecies of reptile than Raymond Hoser, the total being more than 800 as of mid 2022.

It is also almost impossible to find a reptile text published in the last decade from anywhere in the world, that does not cite Snakeman Raymond Hoser as a global name authority.
Some impressive stats current as of mid year 2023 include the following:
- More snake species discovered and named than by anyone else in Australian history;
- More species of snake, lizard (or combined) discovered and named than by anyone else dead or alive (over 600 species);
- More species of Australian reptile and frog (combined) discovered and named than anyone else in history (over 210 reptile species and over 90 frog species), being about 1 in 6 for each in Australia;
- More species of Australian frog discovered and named than by anyone else ever (over 90 species);
- More species (13) (or genera (4)) of rattlesnakes discovered and named than by anyone else;
- More species of viper discovered and named than by anyone else (dozens);
- More species of elapid snake discovered and named than by anyone else (dozens);
- More species of pythons and boas discovered and named than by anyone else ever (dozens);
- More species of monitor lizards (the big ones!) than anyone else in history (dozens);
- More genera of snakes discovered and named than anyone else ever! (hundreds);
- More species of pygmy possum discovered and named than by anyone else in history (6);
- More species of turtle, tortoise and terrapin named than by anyone else born in the last 150 years (over 35) and so it goes on...
Then there's Hoser's countless world firsts and scientific breakthroughs including first to breed numerous reptile species, first to breed reptiles using artificial insemination, first to successfully surgically devenomize world's deadliest snakes by internal excision, first to develop life-saving Canine Snake Avoidance ® training to save dogs lives from venomous snake bites using the devenomized snakes, all the preceding now copied or duplicated woldwide, countless other major scientific discoveries, etc.
Hoser is also the man who owns Snakebusters ®, independently rated as Australia's best reptiles ® shows, incursions, courses and for kids the legendary reptile parties ®. Click on the linked image to the right for the Snakebusters ® website or for an overview see below.
Snakebusters are Australia's only hands-on reptiles ® shows where audience is allowed to handle the animals®. Less experienced imitators only allow "show and tell" or boring "static displays". Snakebusters are also the only vet certified and guaranteed safe deadly snake shows in the world, with surgically devenomized snakes, proven so by testing (on people) over the last ten years! Yes the deadly snakes he's holding in the photo to the right have bitten him many times and he remains alive to tell the story. It's alleged that the snake man tastes of cucumbers and lettuce!
BOOKING AUSTRALIA'S BEST REPTILES SHOWS AND COURSES.
The snakeman and staff from his company Snakebusters travel globally for snake courses, TV documentaries and scientific research.
They also conduct snake catching courses, major events, mall shows and similar Australia-wide.
For childrens birthday parties and kid's school incursions, Snakebusters are the dominant player in our home town of Melbourne, Victoria for obvious reasons, including that Snakebusters alone let kids hold the animals® but cost and time commitments generally precludes bookings outside Victoria.
To book Snakebusters for any of the above, it is best to telephone.
At the same time we'll confirm important information and answer questions.
You can call any time, but we prefer between 8 AM and 10 PM Melbourne, Victoria, Australia time.
Landline +61 (03) 9812-3322
Mobile: +61 0412-777-211
Second Mobile: +61 0411-959-455

Non-urgent email inquiries to Snakebusters and the snake man Raymond Hoser must be made by typing into your e-mail program the e-mail address in the following NON-LINKED IMAGE: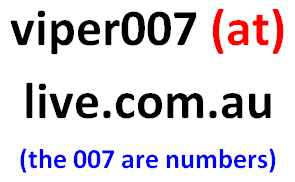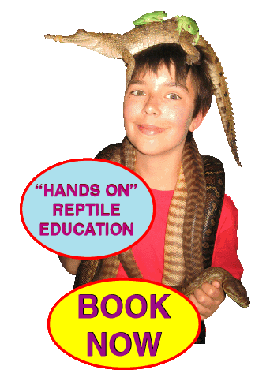 Herpetologists everywhere seek advice from the snakeman. See what he's up to on Facebook, YouTube and Twitter.
© 1996-2021, The Snake man, All Rights are Reserved.
Snakebusters and the snakeman operates in all parts of Australia including, Papua New Guinea, PNG, Sydney, Brisbane, Canberra, Darwin, Perth, Adelaide, Hobart, Launceston, Tas, Cairns, Qld, Townsville, Gold Coast, Wimmera, Gippsland, Vic, Melbourne, Victoria, Northern Territory, Western Australia, Queensland, South Australia, New South Wales, Tasmania, Darling Downs, Pilbara, West Australia, Kimberley, WA, Hunter Valley, NSW, top end, NT, Kakadu, bayside, north shore, north coast, central coast and south coast.
Snake Man®, Snakeman®, Snakebuster®, Snakebusters®, Reptile Parties®, Reptile Party®, handle the animals®, hands on reptiles®, hands on®, Snake Handler ® Snake Removal ®, Australia's best reptiles®, Snake Avoidance ® Snake Catcher ® hold the animals®, variants and trading phrases are registered trademarks in Australia, the United States of America, and the United Kingdom and unauthorised use is forbidden. All rights reserved. This includes for: